Let's face it, B2B marketers have been flying blind for way too long.
Channel99 unites marketing & finance teams to eliminate marketing waste and dollar inefficiencies, lower customer acquisition costs, and drive pipeline more predictably. With relevant contextual benchmarking data and collaborative tools to better measure and evaluate marketing – across all channels and vendors – you now have an unbiased source of truth to better evaluate your digital investments.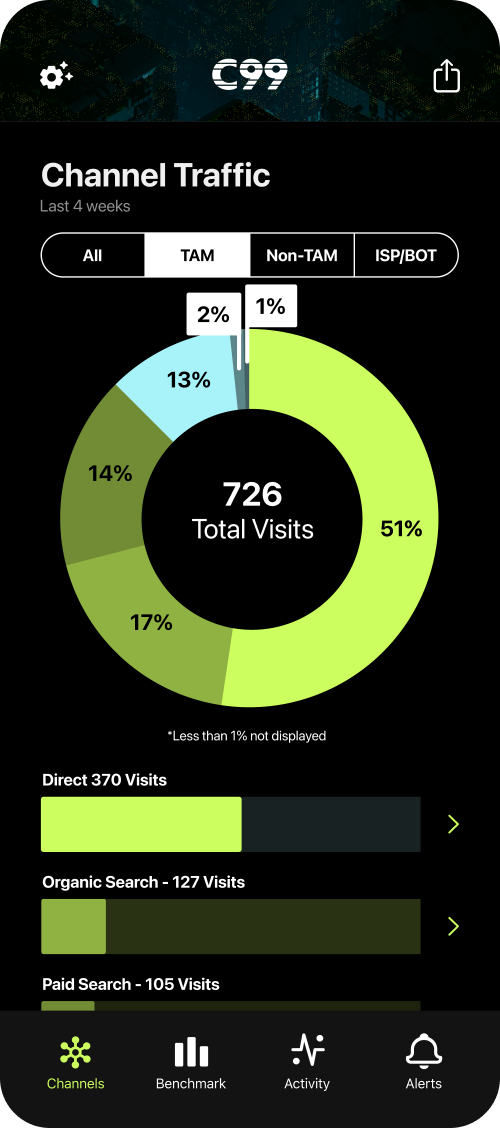 Measure
Understand which channels drive quality visits from the accounts you care about.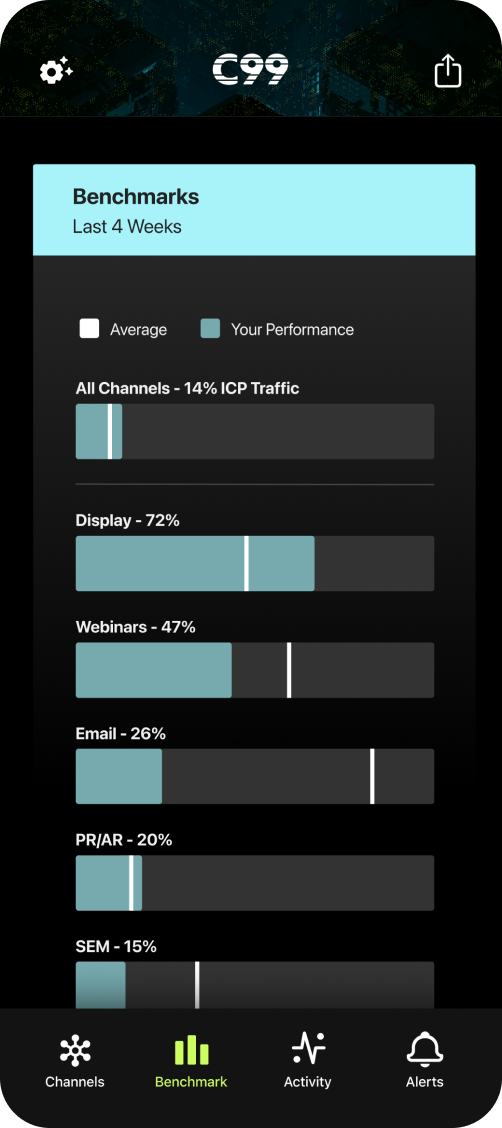 Benchmark
Compare your performance with industry average, channel by channel, to add context to your reporting.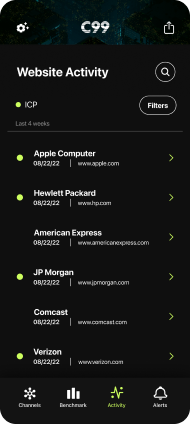 Analyze
Dig into specific companies' visits to get granular detail about the channels and vendors that drove them there.
Ready to get started?
Download the free mobile app.

Nick Panayi
CMO @ Amelia
Channel99 gives my team a clear view of which marketing efforts actually drive quality traffic and, ultimately, the business outcomes we're looking for.

Nicole Wojno Smith
VP of Marketing @ Tackle.io
With C99, I can easily identify which vendors and channels are positively impacting our pipeline goals.

Steve Klei
CFO @ Extracker
Finally, B2B technology with a financial lens to prove ROI, provide insight into business outcomes, and uncover what's really working for marketing spend.
How do I get started?
You can get started in minutes with 3 easy steps. Simply sign up your company, place your custom C99 tag on your web site, and then download the free mobile application from the Apple Store or Google Play.
02
Place our Tag on your website
Get started with the free mobile app
Find out how your digital channels are performing vs. the rest of the industry.